Are cell phones to blame for the dwindling magazine business?
15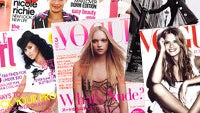 Love it or hate it, the print magazine business is continuing to dwindle due to its collision with the increasingly popular smartphones. Last year, for example, magazine circulation in the US has reportedly dropped 9.5%, and the blame is put on smartphones.
Here's the explanation: According to the Alliance for Audited Media, people have stopped paying attention to the magazines on the impulse-buy racks at supermarkets. While waiting in line at checkout, instead of looking for what other stuff to put in their cart, customers often prefer to just take a look at their phones and do whatever the do with them. It seems the market watchers have identified this phenomenon as "mobile blinders," as it makes consumers "blind" to certain types of products.
Some popular magazines have seen quite a drop in sales last year. Cosmopolitan, for example, has recorded a drop of 18.5% in single copy sales. Other publications that have registered significant loss of circulation include People and Star.
Well, what can we say? Those publishers better start working on their digital versions, because that's where things are headed!
source:
BusinessInsider