Apps not updated for iOS 7 getting hit hard in the App Store
13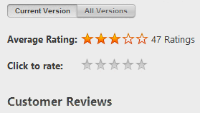 The update to iOS 7 has changed the look and feel of Apple's mobile platform quite a bit, and it has also led to quite a bit of work for developers. Developers don't necessarily have to update apps for the new system, but if they don't it could lead to some very bad consequences including negative reviews from users in the iTunes App Store.
The data comes from uTest, which uses its software called Applause to index about 880,000 apps in the App Store, and analyzes over 80 million reviews on those apps. From those reviews, it turns out that apps which have "iOS 7" mentioned in a review tend to have lower review scores. Quite a bit lower actually, as reviews that mention iOS 7 have an average star rating of 2.81 compared to 3.56 stars for those that don't mention iOS 7.
In general, it seems that these negative reviews are because apps haven't been updated and either don't work as well, or don't look like they should since the iOS 7 update. For example, WhatsApp hasn't updated for iOS 7 and
Skype
only just updated earlier this week. In reviews for each app that mention iOS 7, star ratings were well down - WhatsApp had ratings an average of 1.70 stars lower, and Skype was 1.45 stars lower when reviews mentioned iOS 7.
These negative reviews could very easily lead to users choosing a different app and could even lead to revenue losses for developers. Not a bad reason to update your app.