Apps for apes: give your old iPad to a bored orangutan
10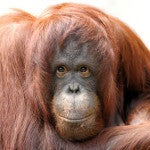 Did you know that there's a special program which aims to enrich the lives of orangutans living in zoos by donating iPads to those zoos? These iPads are then used to entertain our intelligent friends and bring some diversity to their otherwise monotonous lives. That program is called "Apps for Apes" and the latest zoo to take advantage of it is the Smithsonian National Zoo.
Looking for ways to improve the lifestyle of its orangutans, the ape keepers at the zoo decided that they should turn to the Orangutan Outreach organization and the "Apps for Apes" program. Initially, the zoo had only one iPad which it used to run various kinds of apps such as ones simulating musical instruments like piano and drums, drawing apps and even some brain games. Apparently, even orangutans could not resist the allure of the iPad as the program is considered to be a success not only by Smithsonian, but also by the other zoos that participate. When asked what they like most about the iPad, most orangutans from the zoo responded with "
I really enjoy the snappy dual-core processor and large assortment of applications, although the UI seems a bit too simplistic. I would like to try something a bit more advanced, like an OS with widgets and real multitasking, for example.
"
Those apes sure know what they are talking about! All joking aside, those of you who'd like to become part of the program and help some orangutans stimulate their mental activity can donate their old iPad to Orangutan Outreach
here
. Alternatively, you can just send it to our office. After all, we're not that different. Want to exchange pics?
Hit the play button below for a few minutes of orangutan vs iPad action.
source:
SmithsonianScience
via
SlashGear