Apps and games: biggest memory consumers
14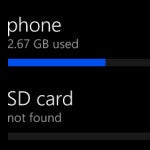 Have you ever wondered what people use their mobile devices' memory for the most? Where do all those gigabytes go? Nowadays it's easy to purchase a new phone or tablet with 16, 32 or even 64 gigabytes of storage and end up with no free space after just a few days of use. Well, now we know what all that GB is used for, at least when it comes to mobile devices.
The results from
the poll that we posted a few days ago
are in, and they are pretty clear:
the biggest memory consumers are the applications and games
. 41.99% of you have said this is the content type that takes up most of the space on their phones and tablets. Music is also a pretty storage-hungry category, so it's not a big surprise that it takes the second place with 27.68%. Those multi-gigabyte song libraries just have to come with us no matter where we go! Video comes in third with 19.86%, and finally we have pictures with 9.53% closing the top four.
The two other categories we had - 'Documents' and 'Books and magazines' are far behind, indicating that digital magazines and interactive books haven't penetrated the mobile space in a big way yet.