What takes the most space on your phone/tablet's memory?
41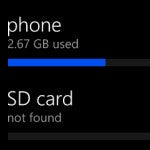 The standard amount of phone storage is much bigger and faster than it used to be, but some of us are still finding themselves wondering what to delete every now and then in order to free some space up for that new game. But that's just us. We know that different consumers have different habits and use their device's storage for most various stuff.
Let's see what is the content type that takes the bulk of the storage space on your phone or tablet (or phablet)! As we know, some content typically uses more space than others, like video and games for example, especially if you have many of those 3D shooters that can easily consume north of 1GB. Still, there are some new content types that have recently gone mobile like magazines for example, which have become real storage hogs. True,
we can now have 128GB iPads
, and we won't be surprised if smartphone manufacturers also start offering handsets with such vast amounts of memory in the future, but these times are yet to come.
Cast your completely anonymous vote in that beautiful poll below!