Apponomics: lion's share of Q1 app revenue went to Apple, while Google Play raked in the most downloads
3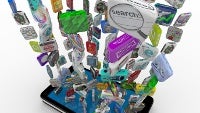 Analysts keep saying that the app and smartphone industry is now starting to mature, meaning less explosive growth, but the latest piece from Canalys, whose App Interrogator covers major application shops in 50 countries, begs to differ.
"
Downloads from Apple's App Store, Google Play, the Windows Phone Store and BlackBerry World – climbed 11% in Q1 2013 worldwide over the Q4 2012 total, while direct revenue from paid-for apps, in-app purchases and subscriptions combined grew by a slightly more modest 9%. Combined, downloads from the stores totaled more than 13.4 billion, and revenue reached $2.2 billion (before revenue sharing is taken into account)
."
Still, growing at more than ten percent a quarter can be considered rapid increase, and $2.2 billion in revenue is an amount starting to shape up as a separate industry, which didn't exist just a few short years ago. As usual, Apple accounted for the lion's share of revenues here, with
iOS apps raking in 74% of all revenue
, whereas
Google's Play Store saw the largest number
, at 51% of the total 13.4 billion app downloads. That's why Canalys researches want to see the emergence of a healthy third contender to challenge the
Apple-Google duopoly
in the field:
The strength of app ecosystems will increasingly help to determine winners and losers in the smart device industry. BlackBerry 10 now has more than 100,000 apps available through its storefront, showing good growth from the 70,000 it boasted at launch, and the new devices on the platform have given BlackBerry a much greater chance to compete for consumer attention. Its app story is going from strength to strength, but there is no room for complacency.
Microsoft, with the help of partners such as Nokia, is also making good progress attracting some important titles to the Windows Phone platform, but it too needs to do more to make building apps for its platform a priority for developers and also do a better job of marketing and communicating the already established strength of its app story,' said Shepherd.

'The Apple-Google duopoly creates certain challenges for app publishers, carriers, investors and device vendors, so there is intense interest in the possible emergence of a third ecosystem,
If we calculate the 30% cut that mobile platform providers are taking, however, their revenue from apps will amount to peanuts, compared to what they are taking in from their core businesses, which only goes to show how apps democratized software sales for us consumers, and something you had to dole out many bucks for before, is now free or very, very cheap.