Apple's tablet market share drops in 2013, Android and Samsung on the rise
47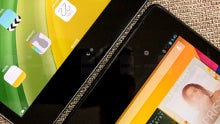 As could be expected, cheaper Android slates have encroached on high-end tablet territory, with Apple's iPad line especially affected in the fight for market share.
Research firm Gartner just released its shipment numbers for 2013, and the picture is not pretty for anyone but lower-end Androids. Apple saw a huge market share slump, going from 52.8% of the tablet market with its iPads in 2012, to a 36% share in 2013. Granted, the piece of the pie is now much bigger, as 195.4 million units were shipped in 2013, up from 116.3 million in 2012 - a whopping 68% increase last year alone.

Most of this growth came from emerging markets, though mature economies still clocked a 30% increase in tablet demand. As per Gartner's analyst Roberta Cozza:

In 2013, tablets became a mainstream phenomenon, with a vast choice of Android-based tablets being within the budget of mainstream consumers while still offering adequate specifications. As the Android tablet market becomes highly commoditized, in 2014, it will be critical for vendors to focus on device experience.

Still, Apple remained the largest single seller of tablets globally, a category it helped create and define with the iPad line. It sold more than 70 million units in 2013, which is a healthy increase from the 61.6 million sold in 2012. Unfortunately, Apple doesn't break those down between the 9.7" iPad, and the
iPad mini,
so there's no way of knowing exactly how much of this increase can be attributed to the iPad mini line.
From the rest of the brands, Samsung logged in the largest market share increase, going from the meager 7.4% in 2012, to almost 20% last year. Overall, Samsung sold 34 million pieces, while ASUS took the third place with 11 million uints. Microsoft's market share, with its Surface tablet line, remained unchanged at about 2%. It, however, saw an increase in the absolute number of tablets sold - 4 million - against 1.2 million in 2012.

With the advent of
cheap $200 8-inchers, running Windows 8.1
, that number might very well be revised significantly upwards when this year's results roll in, finally making it a three-horse race. The hybrid form factor was also the fastest-growing category of tablets, and most of those are running Windows, so that's where Microsoft's ecosystem might receive additional boost this year.
via
TechCrunch