Apple's overseas cash reserves grow to the whopping $74 billion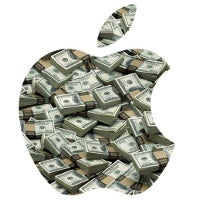 By now you probably already know that Apple is the world's biggest company in terms of market value, but it's also got the biggest overseas cash reserves of all US tech firms, holding the whopping $74 billion. That's a huge increase from cash fortunes amounting to $64 billion in December and $35 billion at the end of 2010.
Interestingly, tech companies in the United States made up nearly half of all overseas cash reserves for US businesses, according to an estimate by Moody's.
How did the rest do? Microsoft holds a massive $50 billion in overseas cash reserves, so it's the obvious runner-up, followed by Cisco with its $42.3 billion. Rounding up the top five were Oracle and Qualcomm with $25.1 billion and $16.5 billion, respectively.
In the first three months of 2012, the overseas cash reserves grew by 31%, but if you count Appel out, this growth slims down to 15%. That's how huge of an impact the company in Cupertino makes for the moment. Impressive, isn't it?
source:
Apple Insider