Imagination Technology announces its PowerVR Series6 GPUs, efficient might coming to our gadgets
10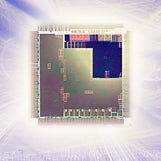 Mobile chips with PowerVR GPUs are consistently beating the competition in graphics performance, a tribute to the engineering prowess of their creator Imagination Technologies. Apple and Intel both have stakes in the company, and the
PowerVR SGX543MP2 GPU has proven its might in the iPad 2
and the iPhone 4S.
Today Imagination announced at CES its next, Series 6, generation of mobile GPUs, and it is the stunner we all expected it to be. In layman's terms, Series 6 promises to be 5x more efficient in terms of power consumption than the Series 5 that is in the iPad 2, but providing the whopping
20x its performance
. We'll let this one sink in for a bit.
Called PowerVR G6200 and G6400, the two new GPU models surpass the 100GFLOPS performance, and even break the 1TFLOP barrier, assumingly in the most powerful configuration. Imagination's engineers are understandably proud with this performance, and say that the G6200 and G6400 deliver best-in-class performance per mm2 and mW. In addition, the chips support all the OpenGL and DirectX standards you can imagine, including DirectX 11.1 in certain configurations. In the words of Hossein Yassaie, the CEO of Imagination:
Based on our experience in shipping hundreds of millions of GPU cores, plus extensive market and customer feedback, we have been able to set a new standard in GPU architecture, particularly in the areas of power, bandwidth and efficiency – the key metrics by which GPUs are now judged. We are confident that with the Rogue architecture we have a very clear technology advantage and an exceptional roadmap for the PowerVR Series6 family which our partners can depend on.
We'd say bring it on, Imagination, and usher us into the era of highly sophisticated graphics, both for user interfaces, 3D apps, and gaming, all without breaking the battery bank. We are curious who will be the first to incorporate the Series 6 GPUs in their SoCs. Apple is a given, but the chips are ready for sampling right now, so we also hope to hear about Android handsets with the new PowerVRs sometime this year. Samsung used PowerVR SGX540 in the original Galaxy S line, then went with ARM Mali-400 for the SII, but it recently
licensed back PowerVR's tech
, so hopefully Series 6 will be in the cards for the next generations of its Exynos chip.
source:
Imagination
via
TheVerge