Apple's lawyer turns to old school paper when his iPad Pro fails during congressional hearing
45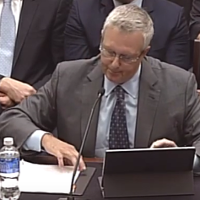 Apple general counsel Bruce Sewell was speaking yesterday at the House judiciary committee hearing discussing the stalemate between Apple and the FBI in relation to Syed Farook's
Apple iPhone 5c
. Unless you've been in a coma or a cave, you probably are aware that
Apple has refused to build the "unique" OS required to unlock the terrorist's phone
, and retrieve information inside the handset demanded by the feds.
So yesterday, Sewell is talking to members of Congress using an
Apple iPad Pro
to help him read his speech. All of a sudden, he switches from scrolling on his tablet to scrambling through his three-ring binder. Apple's general counsel was experiencing issues with his tablet, and was looking to find the hard copy of his speech that he had thoughtfully brought with him just for this type of situation.
You can check out the moment when this happened by clicking on the official video of the hearings. The action starts at the 3 hours, 32 minutes and 55 seconds mark. From that moment on, Sewell's iPad Pro was nothing more than a prop. It's a good thing for Apple that its in-house counsel doesn't believe 100% in a paperless society.
source:
U.S. House
via
TheGuardian