Apple's first native Android app? Why, Apple Music, of course
38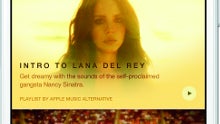 Say what now, Apple is into Android apps? Yep, that's the scoop from today's
Apple Music
streaming service presentation, as Apple announced that the music-on-demand and curated Beats 1 radio streamers will be available for Android later on in the fall.
We can only imagine those will arrive in the form of an app in the Play Store, so we are extremely curious to see what layout and interface shenanigans Apple will have in store for its Music service on Android.
The only Apple thing on Android now is the Beats Music app, which the team from Cupertino inherited when it purchased Beats, but this will now be replaced by Apple Music, a pretty intriguing turn of events. The new subscription streamer will cost $9.99 per month, or $14.99 for a 6-person family account, and will make a cameo on the iPhone, iPad, iPod touch, Mac, and PC on June 30th, wiggling some room on Android and Apple TV after the summer is done and dusted.