Apple's common stock barely responds to the death of Steve Jobs
21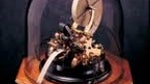 When the opening bell rang at 9:30 am New York time this morning, investors had their first chance to make buy/sell decisions on Apple's common stock
since the untimely death of company co-founder Steve Jobs
yesterday afternoon.
Apple did not announce Jobs' passing on Wednesday until after the markets had closed
for the day.
On Thursday, Apple traded in a range between $371.80 and $384.78 before closing at $377.37 for a loss of 88 cents on the day despite a 1.88% gain for NASDAQ. Volume was approximately 27% above average with 28 million shares changing hands. For the last 52 weeks, Apple has traded as high as $422.86 and as low as $285.26. At one point when the stock was above $400,
Apple had the largest market capitalization (share price times number of shares outstanding) of all publicly traded companies in the world
, beating out Exxon Mobile by a hair. Since then, the oil and gas company has reclaimed the top spot.
Apple went public on December 12th 1980, raising the most money in a IPO since Ford went public in 1956 and
instantly created 300 millionaires
on paper-the most ever created from a single IPO at the time. There is speculation that as a high profile stock, Apple could soon be asked to join the 30 stock Dow Jones Industrial Average.
source:
Yahoo