Apple is now officially the world's largest public company
77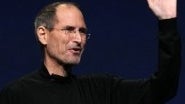 It's now official – Apple has becomethe largest public company in the world based on its stock value.Cupertino topped Standard&Poor's 500 index, eclipsingExxon-Mobil, the oil company which has occupied it in the last fiveyears.
Despite it being a down day for themarket, Apple closed with a market value of $336.3 billion onTuesday, nearly $1.2 billion over Exxon-Mobil's $335.1 billion.Shares of both companies slipped in value, but Apple only suffered a2.76% decrease, while stock of the oil giant dropped 4.41%.
And that seems to illustrate well agrowing trend in the past four years as tech companies gain in value,while more traditional businesses like the oil industry, energy andbanking are slowly losing investor's interest. But the tech industrychanges quickly and Apple will be the first to confirm that. TheCalifornia-based company went public in 1980, entering the S&Prating two years later. After ranking well in the late 80s, thecompany fell back to 456th in 1997. That's when Steve Jobsreturned to the bitten Apple to reverse that trend. The impressive climb from rugs to riches happened largely thanks to the iPod revolution followed by the iPhoneand subsequent overall improvement in brand recognition. In April 2010,Cupertino became the second largest public US company, surpassing itsbiggest rival Microsoft.
But while Apple has been growing quitefast, Exxon went through a much more dramatic downfall. The company'smarket cap fell from $410 billion three weeks ago to $335 now, anearly $75 billion decline. Share prices have also accordinglyreflected that by slipping to $70 from $85.
In the last couple of days, Apple andExxon have been switching places all the time and the two willprobably continue trading places for a while, but what doesApple's current #1 spot mean in the long term? Most importantly,it reflect momentum as most analysts currently rate Apple stock as a"strong buy." And even though the health of Steve Jobs seems toremain Apple's biggest swing factor, the company seems to have boththe growth and cash to win over the oil giant in the long term.