Apple's "Spaceship" prepares for lift-off by the end of 2016
18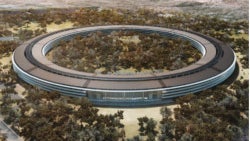 Some three miles away from its Cupertino campus, Apple is building a colossal spaceship-like structure that will soon become its new campus. The circular edifice has a circumference of over a mile, lined on all sides with 1.23 million sq ft of curved glass, suspended over 4300 giant "breathing" concrete slabs. Commonly known as the Spaceship – because of its futuristic design – the building will be powered by 75% of self-produced renewable energy, while the rest will be provided by energy company First Solar.
To say that Apple's Campus 2 is big would be an understatement. The 5 billion dollar structure will occupy an area of 176 acres and has a bigger diameter than that of the Pentagon. It will house 13,000 employees when construction is completed later this year.
Apple says that it's using "the world's largest pieces of curved structural glass", with the heaviest pane weighing at 7,000 pounds. The panes have been transported all the way from Germany by boat. Beneath them, there's concrete – and a lot of it – 4,300 slabs to be exact, each of which averages at 13 by 40 feet. The slabs are hollow, in order to allow the building to "breathe", but this structural quirk does not take away from the concrete's strength in any way, says Apple.
Campus 2 will be almost entirely self-sufficient in terms of energy production, with its rooftop solar panels generating 16 megawatts of power. Another 4 megawatts will be supplied from biogas fuel cells, which will allow for the conversion of hydrogen and oxygen into energy. The Spaceship's greenness does not end with its energy use – Campus 2 will be surrounded by lush greenery, while its courtyard will feature a park with a pond and its own small forest.
The new building is expected to be completed by the end of this year, with employees moving in early 2017. Apple's Campus 2 will house 13,000 employees, among which CEO Tim Cook, and will feature a new 120,000 sq ft theater, where Apple will host its future product announcements.