Bloomberg: Several tech firms looking at producing AR glasses met with suppliers at CES 2018
1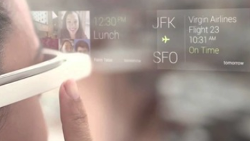 Even though Google Glass struck out as a major consumer product, many analysts and tech company executives believe that AR glasses will be the next hot device to capture the public's attention. Some even believe that the
connected headset will become bigger than the smartphone
, a pronouncement that seems hard to imagine right now. But as major tech companies begin to map out their future plans for AR glasses, several met with suppliers at CES in Las Vegas this past week according to Bloomberg.
The report says that Apple, Facebook and Google met with representatives of companies that build components for AR glasses. It adds that the two South Korean based tech giants, LG and Samsung, have already ordered parts from AR suppliers in order to build prototypes to test. Bloomberg says that smaller tech firms like Snapchat parent Snap and Xiaomi are also interested in manufacturing AR glasses, and both met during the show with firms that the report characterized as "potential partners."
Apple is rumored to be ready for a launch late next year of its AR glasses, although that might be too optimistic. Clay Bavor, the head of Google's AR and VR units, said that some more technological breakthroughs are required to shrink the size of the display and the optics. Apple CEO Tim Cook said back in October
that the technology for AR glasses is not yet mature
and also pointed to the optics as one area where the current technology is not yet ready to support smartglasses.
"Almost everyone is preparing an AR product. Some will lead; others will be in a position to follow right away."-Ari Grobman, CEO, Lumus
At Quanta, the company Apple uses to assemble products like the Apple Watch, vice chairman
C.C. Leung says that he sees Apple's AR glasses launching no later than 2019
. The device reportedly will use the rOS (Reality Operating System) and has a code name of T2888.
source:
Bloomberg