Apple's 4G marketing woes extend to Sweden and the U.K.
29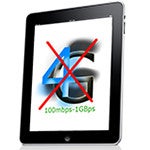 We
reported yesterday
that Apple was getting some legal flack in Australia for marketing the new iPad as "4G", since it cannot connect to LTE services outside of North America. Now consumer complaints have extended to Sweden and the United Kingdom, where regulatory bodies are considering opening an investigation.
Apple was quick to respond to the first round of complaints, offering to refund any Australian purchasers who wanted to return their "not 4G" iPads, and we imagine they will be quick to take action if necessary in Europe as well. Part of the problem stems from differences in how the United States regulates the term "4G". Initially 4G was supposed to only apply to LTE networks, but lobbying from U.S. carriers lead to a change of policy that allowed HSPA+ networks
to brand themselves 4G
as well. This issue reared its head recently when the iPhone 4S on AT&T was
updated to show "4G" coverage
when in range of an HSPA+ network.
Other countries have not made the shift – Australia, for example, still only allows the 4G label to be applied to LTE. As a result, Apple's "WiFi + 4G" claims for the new iPad are not correct in those countries, as the LTE bands do not work with local networks, and the HSPA+ radio isn't 4G. Apple has offered to post disclaimers in its advertising and stores, which would presumably ensure that future customers aren't misled.
Obviously we don't believe that customers should be tricked into buying a product under false pretenses, but in this case it's doubtful that anything more malicious happened then a company not paying attention to labeling requirements in different countries. If Apple updates its marketing material and extends its offer to take back iPads from unhappy customers in Europe as well, we imagine that the issue will quickly fade away.
source:
WSJ
via
Apple Insider