Apple wins temporary relief from MMI injunction in Germany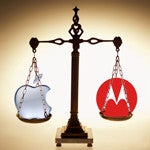 Bloomberg is reporting that a German appellate court has granted Apple temporary relief from an injunction from Motorola Mobility. Motorola won an injunction in December against some Apple devices based on a "
standards essential
" patent. Apple claimed that because the patent is protected by the Fair, Reasonable and Non-Discriminatory (FRAND) rules, Motorola shouldn't be able to enforce their injunction while Apple still had a chance to win on appeal.
The court agreed, stating:
"At the current state of the proceedings, it is to be assumed that Motorola Mobility would violate its duties under antitrust rules if it continues to ask Apple to stop the sales."
So Apple can avoid an injunction until the appeals process is concluded. If Apple wins on appeal, naturally there will be no injunction, while if Apple loses and does not make an offer that qualifies for FRAND consideration (which to date they have not) then the injunction would reinstated…and presumably Apple would quickly find in in their heart (and purse-strings) to make such an offer.
Apple has made several offers, but in December the Mannheim court rejected Apple's last offer, saying they "didn't adequately take Motorola Mobility's interest into account". Apple has since made another offer, playing a cat and mouse game to see what the minimum amount will be found acceptable to the Mannheim courts. Apple is particularly concerned about
setting a precedent with MMI
that could lead other patent holders to try and renegotiate their patent fees in a way that cuts into Apple's
industry-leading profit margins
.
This ruling does not impact MMI's other injunction,
against Apple's iCloud service
, which is based on a patent that isn't protected by FRAND rules. We find little to be surprised about in this ruling – Apple has already asked the EU to look into Motorola's use of FRAND patents in its German lawsuits, and it only makes sense for the court to not exacerbate a situation that may be investigated by the EU anti-trust officials. Nor is it a permanent setback to Motorola if they can win the appeal (and if they can't, they don't deserve an injunction, especially on a FRAND patent).
Apparently this ruling does surprise Florian Mueller of FOSS Patents, who wrote a blog post whose title said (among other things) that this ruling is a "huge victory for Apple, bad news for Google," and went on to claim that this one temporary ruling invalidates Motorola's entire legal strategy and even calls into question Google's purchase of MMI…the same purchase that Google has repeatedly said was
not just about patents
.
We'll let you judge the wisdom of Mr. Mueller's take; you can find his impressions along with Bloomberg's more sober reporting in the source links below.
source:
Bloomberg
via
BGR
,
FOSS Patents