Apple wins injunction against Motorola in Germany over patent covering "rubber-banding"
63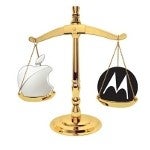 Apple has a real chance to do some damage to Google by way of a court decision it won in Germany's Munich I Regional Court against Motorola Mobility. The company, wholly owned by Google, was found to have infringed on an
Apple patent covering the "rubber-banding" effect
, also known as the "over-scroll bounce". It is the bounce back that occurs when you scroll down to the end of a list and is covered in EP2126678, the European equivalent of U.S. Patent No. 7,469,381. The decision was announced by Judge Dr. Peter Guntz
the infringing devices destroyed
and for another €10 million, it can ask for a recall which would take any infringing device out of the hands of current owners. The court also found that Motorola owes Apple from past cases in the country. Motorola Mobility is going to appeal the decision to the Munich Higher Regional Court and argue to the European Patent Office that the patent is not valid in the first place. There is a workaround for Motorola in the stock Android experience. Instead of a "rubber-banding" effect, stock
Android has a "glow" at the end of a list
. For Android users, this does not does the job as well as the bounce does.
Apple has won injunctions on Motorola twice before this year in Munich. One was for the "slide-to-unlock" patent, while the other dealt with the photo gallery page flipping patent, Overall, in Germany, Motorola has been found by the courts to have infringed on three Apple patents and two belonging to Microsoft. Luckily for Motorola, its market share in the country is fairly low. But for Android overall, Apple's suits are a problem that is not just going to go away by wishful thinking. Coming up in Germany is a Apple-Samsung patent trial set to start on December 7th.
source:
FOSSPatents