Apple will treat the iPhone 6 Plus "Touch Disease" for $149
47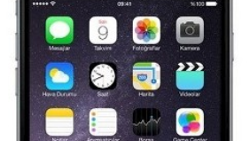 Back in August, we told you that some
Apple iPhone 6
and
Apple iPhone 6 Plus
users were
experiencing difficulties with their phone's touchscreen
. Dubbed "Touch Disease," the symptoms include an unresponsive display and a horizontal flickering gray bar across the top of the screen. While many third party repair experts have seen plenty of 2015 iPhone units with the disease, Apple did not originally recognize it as an issue. The company told those with an affected model out of warranty, that they would have to buy a new phone.
While
a class action suit has been filed against Apple
by those with an iPhone that has caught the "illness," the company now not only agrees that the problem exists, but is offering a repair program. The cost of the repair is $149.
While Apple is saying that the issue comes as a result of multiple drops on a hard service, repair pros say that more specifically, Touch Disease could be the result of problems with the controller chips that turn touch inputs into signals. One theory is that the issue is caused by a manufacturing defect with the U2402 Meson Touch IC chip. Another theory is that solder balls used on the motherboard have cracked, allowing the controller chips to lose contact with the board. Both theories could be consistent with an iPhone that has suffered multiple drops.
"Apple has determined that some iPhone 6 Plus devices may exhibit display flickering or Multi-Touch issues after being dropped multiple times on a hard surface and then incurring further stress on the device. If your iPhone 6 Plus is exhibiting the symptoms noted above, is in working order, and the screen is not cracked or broken, Apple will repair your device for a service price of $149."-Apple Support
If you have an iPhone 6 Plus with Touch Disease, you might want to have Apple make the necessary repairs. If so, click on the sourcelink.
source:
Apple