Apple will soon top Nokia in total handset sales each quarter
35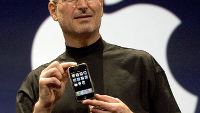 It was all set in motion on June 29th, 2007, when the OG
Apple iPhone
was launched. From that moment on, Apple and Nokia were moving in different directions. Nokia once had what some might have considered an insurmountable lead over Apple, in the number of handsets sold each quarter. By handsets, we mean both feature phones and smartphones. While the
Nokia N95
was a beloved phone back in the day, smartphones were not Nokia's bread and butter in terms of sales volume. In fact, they still aren't. Now, Apple is about to overtake Nokia with only a smartphone business.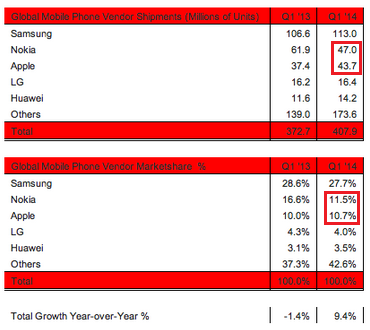 Apple will soon pass Nokia in quarterly handset sales
When you see Samsung at the top of this list, you are looking at the combination of Sammy's smartphones and feature phones. Considering that Samsung shipped an estimated 89 million smartphones in the first quarter, that means that the Korean manufacturer shipped 24 million feature phones in the period. Nokia shipped 47 million handsets in Q1, and Apple sold 43.7 million iPhone units from January through March.
One of the big reasons why Apple is about to surpass Nokia is that the latter has been losing feature phone sales left and right. The 47 million handsets that the Finnish company sold in Q1 represented a rather nasty 14.9 million decline in the number of phones sold from the previous year. Apple sold 6.3 million more handsets during that same time period. Keep in mind that Nokia has over 20 different models, many of them low priced feature phones, while Apple's current line up includes the
Apple iPhone 5s
,
Apple iPhone 5c
and
Apple iPhone 4s
.
Even more troublesome for Nokia is that economic factors cannot be blamed here. The price of an Apple iPhone, even with a carrier subsidy, is more than the $60 consumers in the emerging markets pay for the
Nokia 220
feature phone. With the difference between Apple's sales and Nokia's sales down to 3.3 million units, don't be surprised if Apple catches Nokia to become the second largest overall purveyor of global handsets in the current quarter.
source:
StrategyAnalytics
via
AppleInsider