Apple Watch on a mission to save lives: Apple announces three new studies to transform personal health care
7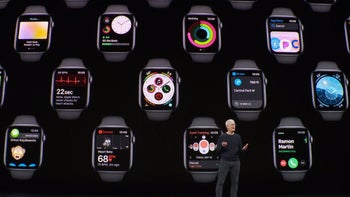 The
Apple Watch
went from being an experimental wearable that vibrates when someone calls you to a pretty well-rounded activity tracker, to an autonomous device that people can call you on, to an actual personal health-carer.
With
Apple Watch Series 4
, Apple introduced features such as fall-detection, afib (atrial fibrillation) checks, and even an ECG scanner (which took a while to become available as this sort of tech needs to be cleared by the FDA). Couple that with the ability to call 911 or an emergency contact by simply pressing the digital crown and you already have a bunch of grateful Apple customers, who were "saved" by their Apple Watch — something that looked like an expensive gizmo at first, but turned out to be a useful accessory to keep on at all times.
At least that's the impression we got from a number of clips that Apple played for us on its ongoing keynote event. The videos were of various grateful users who praised the Apple Watch for one reason or another — one person fell and the Watch immediately called a close one to check up on them; one person had an irregular heart rhythm and the Watch warned them that they should see the doc; other people were impressed with how successful the Health Rings are at pushing them to improve their fitness every day.
And Apple says it's not done. After the success of the Apple Heart Study program last year, Cupertino is ready to go at it again — this time with three separate studies! One is the Apple Hearing Study — using the microphones within the Apple Watch, the app will measure the loudness levels and let you know if you are exposing yourself to too many decibels for too much time. Apple kind of glossed over that one and we are curious about the "study" part here. Next, there's the Women's Health Study, which will act as an extension of the already-available period-tracker on the Apple Watch, using the collected data to look at the "bigger picture" and expand the potential capabilities of the app. And then, there's the Heart and Movement study, which will use fitness data to further enhance Apple's understanding on how to help users track their health.