Apple tweaks its nano-SIM design, awaiting Nokia's answer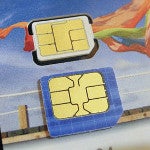 You may remember that last time we talked about the new
nano-SIM standard
that's currently in the works, the vote that will decide which proposed design is going to be used was postponed, due to Nokia being unhappy with Apple's proposition. Here's the story in short:
A number of companies, including Nokia, RIM and Apple have proposed their design solutions for the next version of the SIM card, called nano-SIM. The reason they are doing this is because the industry feels it would be a good idea to make the SIM card even smaller than today's micro-SIM cards, in order to save space inside mobile devices that would be better used for other hardware. Once all the design propositions are in, ETSI — the organization that's managing the creation of the new standard — will conduct a voting phase, the results of which will determine which nano-SIM design is going to be used. However, Nokia raised the issue that there are some flaws in Apple's design, and thus the voting got postponed.
Today it becomes clear that the voting has now started, as Apple has made some needed tweaks to its design. The problem with its original offering was that it could be inserted into a micro-SIM tray by mistake. The new design has some added plastic to it, which does make it a tad bigger, but also ensures that the unwary user won't be able to insert it into a last-gen slot.
Although the winner of the vote is still unknown, there seems to be a pretty solid chance for Apple to win this one. First of all, SIM card pioneer Giesecke & Devrient has brought none other but Apple's design to showcase at CTIA. Additionally, although Nokia's design is the smallest, it is also said to limit backwards compatibility with current micro-SIM and mini-SIM card slots, making it a more difficult choice. Anyways, the results of the vote should be out by mid-May, it is then when we should now how the nano-SIM cards of the future are going to look like.
source:
TheVerge