Apple could hit $1 trillion again with a 'media bundle,' casts 'Always Sunny' crew for a comedy series
15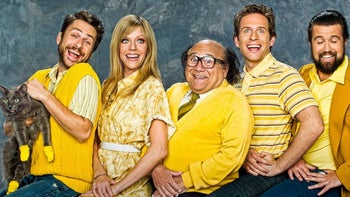 Apple may hit a $1 trillion market capitalization yet again in a very near future, according to
Morgan Stanley analysts
, as it preps the ultimate "media bundle" with a 2019 video
streaming service
, Apple Music, and the purchase of the magazine subscription aggregator
Texture
last year. In addition, there are rumors about a
game subscription service
swirling around.
That same video streamer just scored another potential hit under its belt, reports
Deadline
, a straight-to-series comedy by everyone's favorite good-for-nothing's Charlie Day and Rob McElhenney from "It's Always Sunny in Philadelphia." This alone makes the show an immediate hit among us in the office, but there is more.
Charlie and Rob's comedy series takes place in a video game studio (sweet!), and also features the Oscar-winning F. Murray Abraham, plus a number of other up-and-coming actors like Charlotte Nicado, David Hornsby, Imani Hakim, Ashly Burch, and Danny Pudi.
Abraham will play C.W. Longbottom, a seasoned writer who works at the studio. Nicdao plays Poppy, the lead engineer at the studio. Hornsby is David, a hapless, emasculated producer. Pudi portrays Brad, an alpha male who works in the monetization department at the studio. Burch plays Rachel, who feels undervalued in her role as a game tester. Hakim is Dana, a sweet and studious game tester who loves nothing more than gaming. Ennis portrays Jo, David's over-eager assistant.
We can't wait, and Apple has signed up a few more potential hits like a sci-fi series from the creator of X-Men, a Bill Murray/Sofia Copolla collab (Lost in Translation), as well as a coming-of-age story produced by Jada Pinkett Smith.
It seems that when Apple's streamer launches this year, it will have a full portfolio of originals to work with. That's in addition to whatever bundle Apple can make with its existing music, news and gaming services, for a true "media bundle" of a scale unseen. It will be interesting to see the pricing tiers of such a package, as the streaming video service itself is reported to be
cheaper than Netflix
.