Apple tops Fitbit and Xiaomi to become number one in global wearable shipments during Q1
11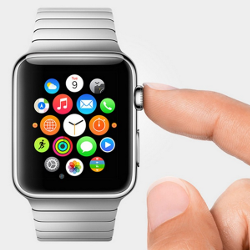 According to a report from Strategy Analytics, Apple is now Top Dog in the wearable space. First, let's back up and look at the category. During the three month quarter that started in January and ended in March, global shipments of wearables rose 21% from 18 million to 22 million units year-over-year. During that same time period, Apple was able to increase the number of Apple Watch timepieces shipped worldwide by 59%, from 2.2 million to 3.5 million. At the end of the quarter, Apple's share in the wearable market was 15.9%, up from 12.1% in last year's first quarter. Apple jumped from third to first in wearable shipments.
As Apple saw demand for its timepiece rising, Fitbit's shipments declined 36% from 4.5 million to 2.9 million. That massive decline nearly cut Fitbit's share in half from 24.7% to 13.2%, and dropped the company from the top of the market to number three. Staying in second place was Xiaomi, whose low-end Mi Band captured 15.5% of the wearables market during the first calendar quarter of this year. Xiaomi's wearable might have limited functionality, but it is cheap. Xiaomi shipped 3.4 million units in Q1, a decline of 10.5% from the number of deliveries it made during last year's first quarter.
Strategy Analytics put on its thinking cap and came to the conclusion that the Series 2 version of the Apple Watch is selling well in the U.S. and U.K. thanks to its styling and Apple's marketing. The firm added that Fitbit is suffering from slower demand for its fitness trackers, and its late entry into the smartwatch business.
source:
StrategyAnalytics
(RegistrationReq'd) via
9to5Mac