Apple to introduce authoring tools to "digitally destroy" textbooks on Thursday
5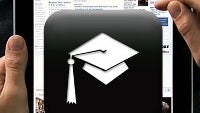 Apple's event on January 19th
is expected to be all about education, and this latest scoop reveals what exactly is meant by that. Cupertino is allegedly planning to unveil a "GarageBand for e-books," an authoring tool that will help create truly interactive books and bring them to the iPhone and iPad, Ars Technica found out.
Apple is currently relying mostly on the ePub standard for its
iBooks
, but to enrich the content it's also using HTML5 for video and audio parts. Still, many book publishers feel like it's hard to make digital books, and a relatively simple yet comprehensive app like GarageBand for e-books would be welcome. That's exactly what Apple is expected to unveil in two days.
It makes sense when you take a look at the massive adoption of iPads in kindergartens, schools, all over the educational system. We don't expect, though, Apple to get directly into content publishing - it will only provide the tool.
The focus of that new content, some say, will shift to social:
"What we really believe is important is the role of social networking in a converged learning environment,"
technology-in-education expert Dr. William Rankin said in an interview for Ars Technica.
"We're already seeing that in Inkling's platform, and Kno's journaling feature. Future digital texts should allow students to layer all kind of other data, such as pictures, and notes, and then share that with the class or, ideally, anyone."
To add spice to that event, we should also note that Walter Isaacson mentioned in his biography, that Steve Jobs was working on digital textbooks, thinking about it as an $8 billion industry. His involvement with the project could have been bigger than what's documented, and some sources point out that the results of that work were supposed to be unveiled at the iPhone 4S launch in October 2011, but were delayed. Only two more days until we hear all about it, so stay tuned.