Apple throws in the towel about in-app subscriptions, publishers rejoice
4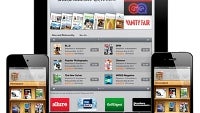 Apple has quietly introduced changes to its
in-app purchasing of newspaper and magazine subscriptions policy
, that was supposed to go into effect in the end of June.
Publishers will now be able to offer subscriptions at any value externally, as long as there is no "buy" button or other link in the app that leads directly to them. Previously Apple demanded a 30% cut from the subscription price when the iOS user purchases from inside the publication's app in the App Store, which is its standard procedure with in-app purchases, but was eating away most of the subscription profit of the publishers.
The publishers were rather displeased with Apple, because with the previous rules they were obliged to offer in-app subscription purchasing "
of equal or lesser value
" than what they were offering externally. Now they can offer a lower price outside of the App Store, and make up for it quoting the default subscription amount inside their iOS apps.
Apple's move might have been because of initiatives like
this of the Financial Times
, which coded a website in HTML5 that looks and behaves like an iOS app. Since it doesn't reside in the App Store, they are not obliged to give Apple the 30% fee for in-app subscription purchases, and can update it at will, without the need for an app review process.
via
MacRumors