Apple teases a Black Friday promo this Friday
13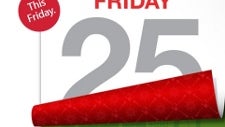 By now, you probably know that pretty much every kid wearing glasses wants for Christmas - recenty surveys show that the wishlist almost always starts with the magical
"i"
for either the iPad, the iPhone or the iPod touch. Now you can fulfil those wishes and actually save if you go online on Friday,
November 25th
.
The day after Thanksgiving will bring a special one-day sales of iPads, iPods and Macs, so while you probably would save a couple of bucks, we don't expect any dramatic cut in prices. Previous Black Friday sales have also brought relatively minimal discounts. Moreover, Apple doesn't mention the iPhone 4S to be inlcuded in the promo deal so it probably will continue selling for the same price. Cupertino definitely seems to have the user demand to feel safe about the popularity of the newest iPhone.
What iOS device would make you go online on November 25th, if you plan to do so? If you don't, you might want to check out the rest of the
Black Friday deals
we put together.