Apple changes exchange and refund policies in Hong Kong to stop illegal scalping of new iPhone units
19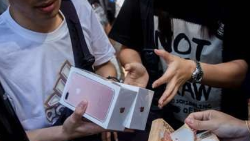 Apple appears to be doing its part to prevent iPhone units bought from Apple's retail locations in Hong Kong, from being smuggled into China. Because of the lack of import duties and taxes on foreign made devices, those involved in illegal activity in the region are purchasing the handsets in Hong Kong, and are selling them in China's black and gray market. Today, both the
Apple iPhone 7
and
Apple iPhone 7 Plus
are being launched in various markets including Hong Kong, where prices for black market iPhone units can reach more than $2,000 USD.
On Apple's Hong Kong website, new return policies are listed for Apple and Beats branded products. No longer can these be returned within 14-days to the company's retail locations in Hong Kong, even with their original receipt and packaging.
The
South China Morning Post
relayed a story today about a young man who picked up a pair of 256GB Apple iPhone 7 Plus units in Hong Kong and immediately sold them to a "trader" outside the store. The transaction earned the 20-year old a profit of $91.73 USD on each phone, or a total of $183.46 USD. That really was not a tremendous profit considering the cost of the phones. "I can't say it was the best deal," the young man said, "but I'm satisfied." One store in the region offered to pay the equivalent of $2576 USD for a 256GB iPhone 7 Plus in Jet Black. That model sells in the Hong Kong Apple Store for the equivalent of $1068 USD.
"All Apple and Beats products purchased at Apple Retail Stores in Hong Kong cannot be returned or exchanged under the Apple Retail Store Purchase Policies. If you are not satisfied with other products you purchased from Apple, return it with the original receipt and original packaging within fourteen (14) calendar days of the date of purchase. If the item is returned undamaged, we will exchange it or offer a refund based only on the original payment method. Apple will wire transfer to you within ten (10) business days for cash and cash equivalent transactions over $2,000 to bank accounts located in Hong Kong. Please note that refunds to bank accounts located in Mainland China could take up to twenty one (21) business days."-Apple's new return and exchange policy in Hong Kong
source:
Apple
via
SCMP