Apple shares close at an all time high
11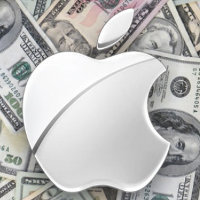 Apple shares closed at a new all-time high on Tuesday at $106.74. Taking into account
a 7 for 1 stock split that took place earlier in the year
, Tuesday's high price was the equivalent of $747.18 before the split took place. At the time of the split, Apple's shares were trading at $93.70. That works out to a gain of 13.9% in Apple's shares since then.
There have been quite a few catalysts that have helped Apple's stock find favor on Wall Street. The new
Apple iPhone 6
and
Apple iPhone 6 Plus
have both been well-received (#bendgate aside) with Apple selling 39.3 million iPhones in the fourth quarter. In fact, the recent rally in the shares date back to
the release of the company's fiscal fourth quarter earnings
. Outside of the continuing slump in iPad sales, the three month period was a strong one for Apple. In addition, the Apple Watch was introduced in September, with company CEO Tim Cook recently
calling the wearable, "a game changer"
.
On June 29th, 2007, Apple closed at a split-adjusted price of $16.66. That means that from the time that the very first
Apple iPhone
was available, Apple's stock has risen more than six-fold. During that time, we have seen the iPhone go from 3.5-inches to 4.7-inches. Apple has produced a 5.5-inch phablet, and created a whole new category with the
Apple iPad
. The company also made shopping for apps popular. And that is merely touching the surface.
Apple has also made its long-term share holders rich. Had you had the foresight to purchase 1000 shares on June 29th, 2007, thinking that this new-fangled iPhone just might be another big hit for Steve Jobs, your $16,660 investment would be worth $106,740 today.