Apple runs into setback in their attempt to get Google-Motorola merger documents
15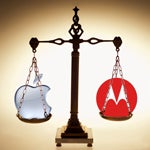 Apple's string of good luck in the pre-trial phase of their Illinois lawsuit against Motorola has careened into a wall. Back on March 5th the presiding judge in the case, Chicago U.S. Circuit Judge Richard Posner
granted Apple a motion for discovery
of paperwork covering the Google-Motorola merger. Motorola tried (and failed) to argue that since the deal had not yet closed, Google was not technically a party to the lawsuit and couldn't be compelled to turn over documents.
Now it's Apple who is running afoul of the judge's ruling; Apple apparently attempted to force Motorola to hand over all information they had on Google's development of Android. MMI refused, indicating that such a request exceeded the original ruling, since development of Android was not specifically related to the acquisition, and could obviously contain trade secrets.
Apple is clearly on a fishing expedition, hoping to find something incriminating among all of the Android communications between the two companies; Motorola's plea to the court must have been compelling, as Judge Posner sided with Motorola, saying
"
(Apple's) motion is vague and overbroad and Motorola's objections are persuasive.
"
Most likely there will be at least one more round like this, as Apple will presumably attempt to narrow their requests just enough to satisfy Posner, while casting as broad of a net as possible to try and fish up something they can use in court against Google this June, when
back
-to-
back
lawsuits will take place between the two companies.
source:
Bloomberg Businessweek