Motorola sued by Apple over use of multitouch in Android phones
15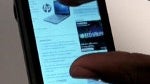 Motorola puts multitouch on almost all of its Android phones? Time for Apple to call Judge Judy. Someone is going to get a tongue lashing for sure. Actually, the guys at Cupertino called out their legal big guns and filed a lawsuit against Motorola. The suit claims that the Schaumburg based firm infringed on Apple's multitouch patents and patents on a few other technical systems that you probably never heard of. Needless to say, defending the multitouch patent is the focus of this suit. The devices involved include most of Motorola's Android flavored handsets including the Motorola DROID X.
Back in 2009, Apple CFO Tim Cook warned the competition about using Apple patents without permission. Cook said, "We like competition as long as they don't rip off our IP. And if they do, we will go after anyone who does." The suit, Apple vs. Motorola and Motorola Mobility Inc. was filed in Wisconsin Western District Court.
You might recall that earlier this month, we
reported
that Motorola Mobility was suing Apple for infringing on 18 of the former's patents. And the game goes on and on with only the lawyers getting anywhere.
source:
PatentlyApple