Apple rumored to unofficially repair or replace Hurricane damaged iPhone and iPad units
6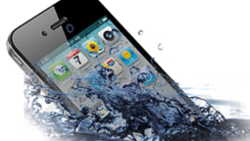 So let's say that thanks to Hurricane Harvey your Apple iPhone or Apple iPad sustained serious water damage that basically destroyed one or both devices. Despite the IP67 certification rating on the
iPhone 7
and
iPhone 7 Plus
, Apple has made it clear that water damage is not covered by its warranty. So under normal circumstances, the flooding in Texas would normally lead to water logged iPhone units that would not be replaced by Apple, even if they are supposed to withstand a submersion to 3.3-feet for as long as 30-minutes.
But that doesn't mean that Apple isn't going out of its way to make life easier for those affected by the Hurricane. While not considered official policy, Apple is said to be offering free repairs to its devices that took on water and were damaged as a result. Apple is also believed to be offering free repairs to its devices that were damaged due to an impact that took place as a result of the Hurricane.
If your iPhone was in your pocket when flooding forced you to wade neck deep in water, or a tree branch crashed through your window and smashed into your iPhone which was laying on a desk, Apple just might replace your damaged iPhone or iPad (and even a Mac) out of the goodness of its heart. If you're iPhone, iPad or Mac was damaged due to the Hurricane, you need to trek down to your local Apple Store and tell them your sad story. Heck, you might even be able to get a freebie on a Hurricane damaged Apple Watch
And if Hurricane Irma hits South Florida next week as expected, Apple might feel compelled to extend these free repairs to those plying their talents on South Beach.
source:
9to5Mac