Apple reclaims the smartphone share top from Android in the US, buoyed by the iPhone 5 sales
50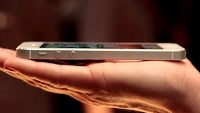 As is becoming typical for this time of the year, after the launch of the annual iPhone, Apple's smartphone market share in the US skyrockets, and it overtakes Google's Android devices for a quarter or two, when the new crop appears and they climb back on top.
The researchers from Kantar Worldpanel just released their current market share estimates, and Apple netted 48.1%, against Android's collective 46.7%, buoyed by the breakneck
iPhone 5
sales. They also estimate that Apple might break its record 49.3% share this and next quarter.
Europe is on the opposite side, especially in Germany, where Android commands 73.9%, and the whopping 81.7% in the recession-shaken Spain, where Apple's expensive handset stays mostly unsubsidized by carriers. The iPhone market share has been climbing in four key European markets, though, especially in the UK, where it netted 32.7%.
An interesting phenomenon is the proliferation of Windows Phones in Italy, where affordable handsets like the
Lumia 610
and the
Lumia 800
midranger ensured WP snatched 11.7% of the overall Italian smartphone market, the highest in Europe.