Apple's new patent for a foldable iPhone shows something in common with the Galaxy Fold
17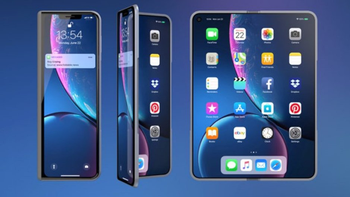 A timeline of foldable devices
that was released last December by CGS-CIMB Group was interesting. It had Samsung and Huawei as the first two major phone manufacturers expected to release a foldable phone months before this was set to become true. The manufacturer last on the list was Apple, not expected to launch a foldable iPhone until the second half of next year. Earlier last year, a Merrill Lynch analyst said that after talking to Apple's supply chain, he expects a foldable iPhone to launch in 2020; we love when two separate reports lead to the same conclusion.
While there have been concepts of a foldable iPhone released
, a patent awarded to Apple this week might give us the best look at what Apple has in mind.
The USPTO on Tuesday (via
Patently Apple
) awarded Apple U.S. Patent No. 10,303,218 for
Foldable cover and display for an electronic device
. The illustrations show an inward folding device similar to the one on the
Samsung Galaxy Fold
. That is unlike the outward folding
Huawei Mate X
and the vertical folding
Motorola RAZR (2019)
. But unlike the Galaxy Fold, the patent is accompanied by other drawings showing a more flexible display that can bend into more shapes than current implementations of the folding form factor. The patent focuses on the foldable iPhone's display and cover layers. As pointed out in the patent, both are designed to fold and unfold by "bending the cover layer over the foldable region."
"Traditionally, electronic devices have a single form factor that may be driven by the size and shape of the display. Because many traditional displays are rigid or at least not flexible, a traditional device that is adaptable to accommodate multiple form factors includes the use of a mechanical hinge or pivot joint. However, these traditional configurations used for traditional notebook and tablet devices are inherently limited by the integration and size required by a separate mechanical hinge. Embodiments described herein are directed to devices and techniques for forming portable electronic devices having a flexible cover coupled to a flexible display that do not have the limitations or drawbacks associated with some traditional solutions."-Apple
Will Samsung's problems cause Apple to delay work on a foldable iPhone?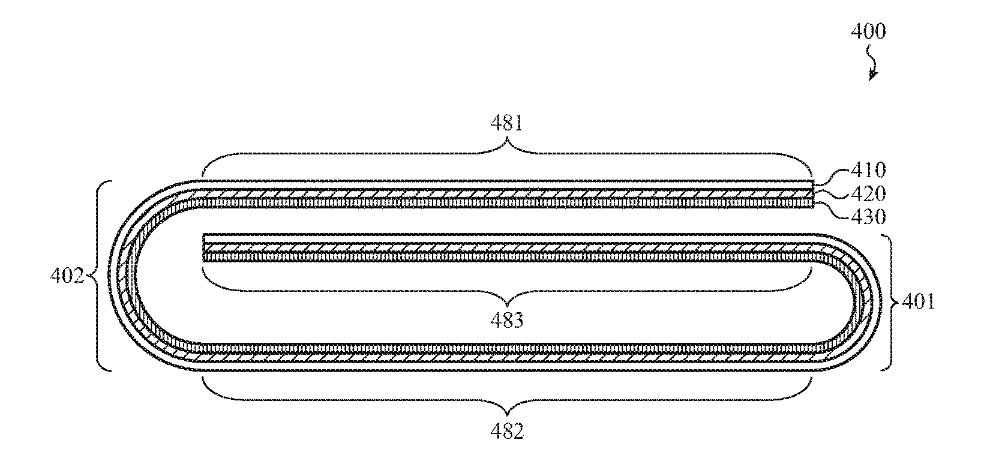 Illustration from Apple's new patent
It is important to note that Apple initially filed these patents before the problems surfaced that has put the Samsung Galaxy Fold in limbo. The first folding phone from a major manufacturer was unveiled in February and was supposed to be released on April 26th. But as you no doubt know by now, some influencers thought that it would be okay to peel a protective film off of the large internal screen despite warnings from Samsung not to do so. There were other issues as well, including one that saw debris enter the phone via the hinge and cause a bulge on the display. Samsung has delayed the launch of the Galaxy Fold and
Best Buy has recently canceled pre-orders it received for the device
.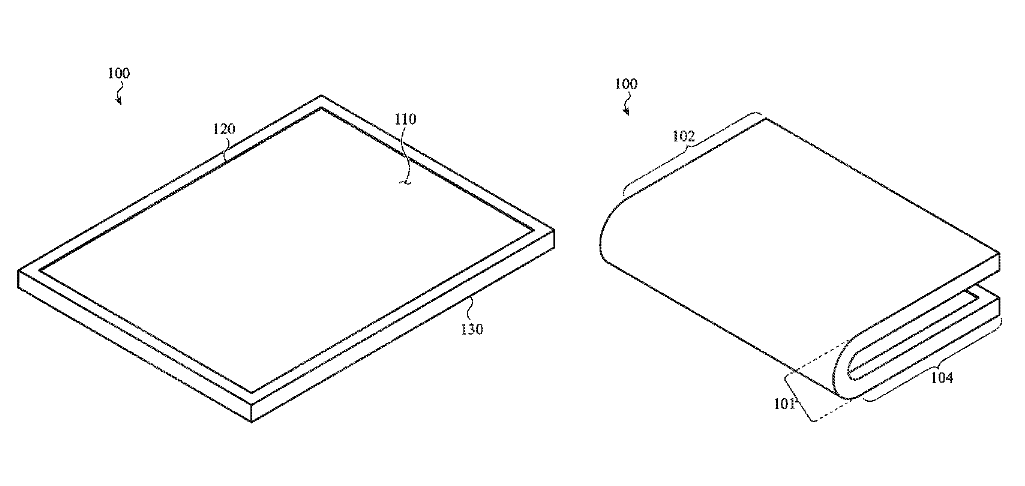 Another illustration from the same patent shows an inward closing foldable iPhone
The
Huawei Mate X
and its outward fold was supposed to be the second foldable released by a major phone manufacturer this year. While Huawei hasn't made any statements, with the company currently losing access to parts, components and software from its usual sources, the Mate X could be delayed. Huawei's problems are obviously not the same as the ones that Samsung is facing with the Galaxy Fold.
Judging from the patents that Apple has filed and received, it is serious about creating a foldable iPhone. We just wonder whether the roadmap for such a device has hit some detours in light of Samsung's problems.