Apple granted new patent for folding display that could be used on a future iPhone
13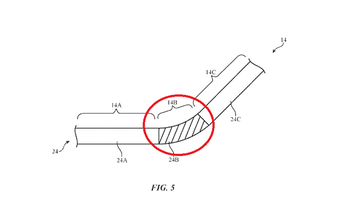 Apple has been rumored to be seriously considering a folding iPhone/iPad device. Today, the company was granted a patent by the USPTO that is titled "Electronic devices with flexible displays." Originally filed on June 8, 2016, the patent mentions a transparent display that bends in the middle using "grooves or other recesses." When the screen is folded, there is an area of the screen that gets thinned on the display layer.
To prevent this thinning, which can cause havoc with the display, the patent discusses the use of filling the recess area in the middle with "Elastomeric material, fluids and other materials." The patent, US10,020,462, is credited to Jiang Ai, Erik A. and Soyoung Kim.
The rumored folding iPhone will turn from a handset into a tablet-like device. Check out images from the patent at the top of this article, and in the slideshow below.