Apple receives a patent for flexible side-wall displays that will act as virtual buttons
63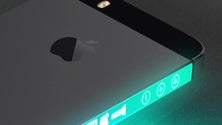 Apart from the circulating rumors that Apple might use
a force touch display in the next iPhone generation
, fueled by the announcement of the new MacBook's touchpad, there seem to be a few new speculations regarding new technologies coming in the iPhone 6/6 Plus successor(s).
If we judge by one of the new patents that Apple has been granted by the USPTO (originally filed back in 2013), the company could be working on a mobile device equipped with sidewall displays that dynamically change their function according to what the user is currently doing.
The patent description claims that these displays might "include one or more flexible layers and may be mounted under a transparent display cover layer such as a layer of clear glass or plastic". Below that clear layer, Apple intends to put another touch-sensitive one that will register user input, whereas the display itself will provide the user with visual clue on what's the button's current function, be it a camera shutter or an in-game controller.
It's also said that the patented display tech might take a planar shape, which will allow it to cover the "front, rear, and sidewall surfaces for the device". It is hinted that this tech might eventually entirely substitute hardware buttons.