Apple patented a wristband that could increase the Apple Watch's battery life
9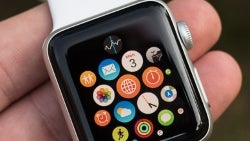 Apple is working on ways to improve the Apple Watch's battery life – a tricky challenge, as there's not much space left for a big battery cell after all the tightly-packed technology is put in place. As evident by a recently published patent, one approach that's being considered is embedding or attaching a supplemental battery in or to the wristband. Power is whisked to the Watch through a thin, magnetically attached charging backplate that lets the wearable's biometric sensors function.
The battery pack itself can be charged via a Lighting cable or the Apple Watch's magnetic charging dock. Apple also thought of an overheating protection system – the charging plate can determine if the Watch is being worn or not, and regulate power transfer accordingly, so your wrist won't heat up.
There's no way of knowing when or if Apple is going to release this accessory. The company has been experimenting with ideas, such as sensor-equipped and "modular" wristbands since the Apple Watch's inception, but this far, we've only gotten fashion-oriented models.
ALSO READ
Recommended Stories