Apple mixed into another screen size rumor, this time a 5" Retina Display gadget
12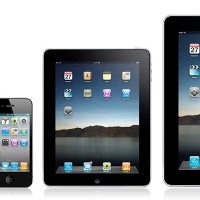 The Japanese blog for all things Apple Macotakara reports that the folks at Cupertino are working on a 5" device with Retina Display, that is scheduled for release next year. The source are Chinese suppliers, who have apparently received the task to produce such an LCD screen.
It's a far-fetched enough timeframe, so even if Apple isn't working on this, the amount of news this rumor will get today, and the subsequent comments, will pretty much gauge the user sentiment towards a 5-incher without any surveys or focus groups.
The device might be the response to the
Samsung Galaxy Note
,
LG Optimus Vu
and so on hybrids, or, for all we know, it might be just the remote for the inevitable Apple TV set that has been rumored for a while to be released early next year.
The rumored resolutions are 1600x960 or 1280x960. We'd bet on the latter, as it simply doubles the horizontal resolution we have on the iPhone, so no need for developers to do
pixel
somersaults with their existing apps.