Apple may be working with others, like Swatch, to build multiple iWatches
9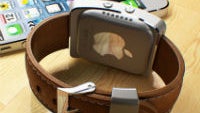 This is starting to get pretty weird. We're still getting used to the more expanded Apple device lineups and opening up of iOS, and now there is a new rumor that Apple might even be outsourcing the hardware manufacturing for some extra iWatch devices. The word has it that in addition to the two Apple-made iWatches, Apple could be working with other manufacturers like Swatch on additional wearables.
A move like this isn't just a potentially big move for Apple, but a big one for Swatch as well. Just a couple months ago there were reports that Swatch was planning to
block the trademark of the name
iWatch, because it was too similar to Swatch. According to sources for
VentureBeat
, Apple is working with other manufacturers to release multiple iWatch devices that range "from geek to chic". There is even a possibility of Swatch building iWatches that won't carry the company's brand, and will only be branded as Apple devices.
The idea is that just like Apple used iTunes and its mobile devices to draw users to its Mac line, it wants to use a wide range of iWatch devices along with HealthKit to bring more users to iPhones and iPads. To do this, there need to be iWatch options for all users, including multiple designs for the fashion conscious. Swatch seems to be the most likely partner for Apple, but there is also a possibility of Timex and others being on board.