Apple looking at "Waze" to improve Apple Maps
33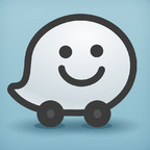 Waze
. This is a social traffic and navigation app that has over 30 million members and already provides data for Apple Maps. Data from Waze comes from moving cars allowing for real-time traffic updates and its reach covers the entire planet. Passive users can simply let their moving car provide real-time traffic data while more active members can report accidents, police radar traps or other problems that affect traffic. Many have considered Waze to be a better fit for Apple than Foursquare,
which has met with Apple Senior Vice President of Internet Software and Services Eddy Cue
to discuss adding its local recommendations to Apple Maps.
The latest buzz is that Apple and Waze are negotiating a deal although the two are pretty far apart. Waze, which had less than $1 million in revenue last year, wants
$750 million
for the company while Apple is offering $400 million. What makes Waze a better fit for Apple than Foursquare is the latter's more limited reach and the idea that a sign-in service isn't as reliable as tracking moving cars is. Waze has added Waze Ads which is a location-based ad network that allows local companies to grab the attention of nearby drivers, another tool that Apple could use. And since the
Apple Maps fiasco began
, Waze has seen a surge in downloads to 100,000 a day, a 25% increase. At the same time, the app has increased its marketshare to 10% of U.S. Apple iPhone users from 7%.
Will Apple be able to close the deal? Stay tuned!
source:
TechCrunch
via
FierceWireless