Apple is once again rumored to start a P2P money transferring network similar to Venmo and PayPal
7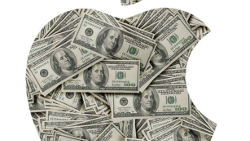 Venmo is a free digital wallet that allows users to wire funds into or out of their Venmo account, bank account or debit card. Today, word surfaced about meetings that Apple has held with firms in this industry about starting up its own money transfer system. In other words, Apple is looking to build a Venmo competitor that would allow iPhone owners to transfer funds to and from others' iPhone handsets.
Those in the know say that Apple could officially unveil this new payment service some time later this year, allowing Apple to compete with others in the industry such as Pay Pal, Square Cash and Chase's Quick Pay. The latter processed a leading $28 billion last year while Venmo had a hand in $17.6 billion worth of financial maneuvers; Venmo's annual payment volume is doubling each year. Subscribers to these so-called peer-to-peer services use them to split the tip on a dinner, or to come up with their share of next month's rent.
Most financial companies that offer such a service use them as a loss leader. This means that huge financial supermarkets typically lose money offering such small sum wireless money transfers. But they are willing to do that in order to get consumers hooked on their firm, hoping that new subscribers end up using other profitable services offered by the banking company. Need a loan, a credit card or a mortgage? If you already have a money transfer arrangement with a financial firm, you're more likely to use that company for a loan that is highly profitable to the lender. Apple, however, doesn't think in terms of loss leaders. If it does make a go at starting a peer-to-peer wireless financial service, it would do so with the intent of turning a profit on the business.
Keep in mind that Apple has been rumored to be setting up such a P2P (peer-to-peer) money transferring system before. Back in 2015, the
Wall Street Journal
said that
Apple was about to start such a service in 2016
, which would have been folded into Apple Pay. The inclusion of Apple Pay in the new service remains a strong possibility. However, the new rumor does include talk about a new Visa card that would be offered by Apple, but would run through Visa's debit card system. It would work with the new P2P service by allowing those wired funds from an iPhone user to have access to that money instantly, instead of waiting for the money to hit the user's bank account. This is something that PayPal currently does.
Bank executives are not happy about Apple working with Visa, and plan on letting Visa know that at an annual summit that is set to be held next week.
source:
Recode