Qualcomm sets a $349 price tag for its Toq smartwatch, to launch on Cyber Monday (Dec 2)
10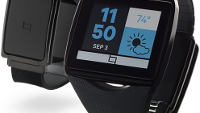 Silicon slinger Qualcomm's Toq smartwatch has been on our radar
since early September
, and while details were mostly abundant, two essential questions remained unanswered – price and release date.
This has now been taken care of, as Qualcomm has just outed a press release, announcing a price of $349 for the Toq, and a December 2nd launch. These as you could guess have left us with some mixed feelings. Said otherwise, while we're happy to see the smartwatch finally become available (and in time for the holidays), the rather steep price bugs us a bit. That's actually higher than Samsung's Galaxy Gear, and even more so than Sony's SmartWatch 2, putting Qualcomm's Toq at a disadvantage right off the bat. The only question at this point is, whether the Toq will manage to pull its weight in terms of specs and performance, at least enough to justify its price...
Speaking of specs, the things that we do know at this point include the highlight of the watch – its 1.55-inch Mirasol transflective screen. That one is touted as a game-changer, as it uses the often abundant light around you instead of a backlight, conserving battery and allowing for proper outdoors usage. Moreover, Qualcomm promises "an always-on experince with multiple days of battery life", which is quite impressive.
The rest of the Toq will be a tad more familiar – it still needs to be tethered to an Android 4.0.3 or above smartphone via Bluetooth, for example. Qualcomm is also making a Bluetooth stereo headset available for a true wires-free experience. Wireless charging has also been weaved into the Toq. In fact, ease-of-use has taken a pretty central role in the Toq – the smartwatch features no ports nor buttons, you control it by pressing the watchband instead.
There's still no word on what exactly will be powering the Toq from the inside, though we expect these to become available soon. In any case, and despite the awesome-sounding display panel, a $349 price tag is probably sure to deter a reasonable portion of potential early-adopters, especially since most rivals are pricing theirs a tad more competitively.
source:
Qualcomm
,
Toq