Apple iWatch concepts: here's how a Marc Newson-designed timepiece looks like
3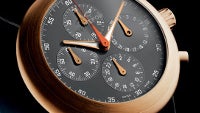 Marc Newson is one of the superstars of modern industrial design and he has now joined the Apple team. And as a lot of recent Apple hires, he seemed to be a perfect fit: the prolific designer has worked on such a large variety of products and categories that it's hard to say what he has
not
worked on. An important advantage for Australian-born Newson? A great relationship with Sir Jonathan Ive, chief designer of Apple.
Question remains, though: what will Newson work on? A new iPhone? A new iPad? Or maybe that brand new category of devices for Apple, the rumored iWatch? We'd bet that he'd put his mark on all aforementioned products in the future, but in the shorter term, it seems that the iWatch is the device Apple has focused most on and with mass production still not rolling, Newson could still make an impact on the iWatch.
We took a look at Newson's portfolio and here is how he imagines the design of a watch: bold, radical, some concepts feature experimental translucent materials with a beautiful single-color highlight, but all of them are definitely interesting to look at. Will the iWatch be similar to one of them? We should learn tomorrow when Apple is expected to unveil the new wearable. Right below the concepts, you can also find a joint interview of Marc Newson with Jony Ive to get an impression about Apple's new superstar hire.