Apple iPhone turns 6 today
86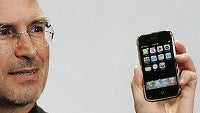 Six years ago today, long lines and plenty of media attention greeted the
Apple iPhone
as it was launched. The original generation of the device carried specs that certainly wouldn't live up to today's models. The 3.5 inch screen offered resolution of 320 x 480, and a pixel density of 165ppi, a far cry from today's Retina display. A single core 412Mhz processor powered the device which also contained 128MB of RAM and a 2MP rear facing shooter.
A lot of features were left out of that first model, including 3G connectivity, GPS, MMS and a flash for the camera. Speaking of the camera, that early snapper did not have autofocus. In other words, things have progressed so much over the last six years that the OG version of the device would be considered an entry-level model today.
Few remember, but when the 4GB Apple iPhone first was released on June 29th 2007, it was priced at $499. By September,
AT&T cut the price of the phone by $200
bringing the 4GB model down to $299 and the 8GB version to $399. Both prices, of course, required a two-year contract with AT&T where the phone was an exclusive at the time.
The most recent version of the phone, the
Apple iPhone 5
, increased the size of the screen to 4 inches for the first time. But after 6 years, the phone no longer seems as innovative and fresh as it did back in 2007. Today, most of the features that seemed so fascinating about the Apple iPhone back then can be found on low-end Android or Windows Phones.
Still, we must wish the Apple iPhone a Happy 6th Birthday even if
Apple itself slapped the obsolete label on the original generation of the phone
earlier this month.