Apple cuts iPhone's price with $200
1

Yesterday, Apple announced the new generation of iPod devices – the most popular personal music player on the market. The Shuffle didn't really change much, same goes for the Standard, both increasing the storage. The Nano now reminds of the standard one but the interesting new iPod is the Touch, which is almost exactly the same as the iPhone but in scaled size – shorter and slimmer (only 0.3"/8mm). This will probably lead to even wider popularity of the iPhone's OS, and more and more applications will appear for it, which is only good for the customers. Also, those who liked the fancy interface of the iPhone but weren't really impressed by its phone functionality will be able to get the music-player only version to assist their current phone.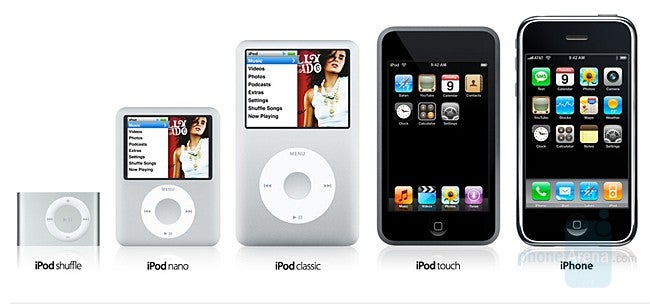 iPod line including the iPhone
The cool news about people considering the iPhone is that it price dropped significantly,
now $399 instead of the $599
for the 8GB version, which was the cost up until yesterday. Still, this price remains only for AT&T customers, signing a two-year contract, as the phone is exclusively available with the carrier. The 4GB version will be $299 while supplies last, after that it will not be available.
Together with the new iPods, Apple announced new
iTunes Wi-Fi Music Store,
which allows browsing the iTunes Store from iPhone/iPod touch and buying songs by downloading them through WiFi network. The tracks will sync with the iTunes on a computer. The WiFi Store will be available later this month, via software update.
One of the drawbacks of the iPhone was the limitation of
ringtones
, as customers were not allowed to add their own and had to use only the preloaded ones. Apple updated iTunes with option for creating of personal ringtones from songs you've bought. This will cost you additional 99 cents, but will allow you to use 30 seconds of the track for alerting for an incoming call.