Apple iPhone support app will reserve the iPhone battery you need, and alert you when it's in stock
7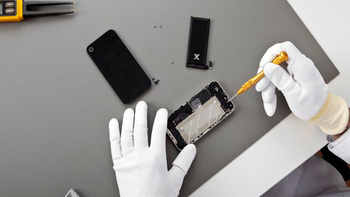 Ever since
Apple disseminated its apology last month for slipping in software under iPhone owners' noses
, which was used to throttle the CPU speed of certain models, Apple Stores around the world have been mobbed. Here's why. Apple said that it had to slowdown the processor on certain handsets since these units no longer had the battery strength to handle complex tasks, without the risk of shutting down the phone. Fixing that requires Apple to swap out the weaker battery for a brand new fresh one. To get back into good graces with its customers, Apple cut the price to replace the battery on select models to $29 from $79. Since then, the phone has been ringing off the hook at Apple Stores.
Many batteries have been out of stock at Apple's retail locations, and getting an appointment is extremely hard. But up in Canada, Apple is testing out an iPhone battery replacement reservation program using its iPhone support app. Opening the app, users tap on
Get Support
and select the iPhone model that needs a new cell. Next, they click on
battery, power, charging
and select
Reserve a Battery
. When the requested battery is in stock at a nearby Apple Store, the user will receive a notification that it is available. After seven days, the reservation is cancelled and the battery is added to the Store's inventory.
Earlier this month, it appeared that
batteries for the Apple iPhone 6 were not available in New York City
. That was nearly two weeks ago, and new inventory is supposedly going to hit Apple Stores in that region soon. If you do own an older iPhone that needs a new cell, our suggestion is that you call the Apple Stores in your area to see if they have in stock the battery you need, and to make an appointment for a battery replacement. You might not feel like spending $29, but as far as your iPhone is concerned, it might be enough to rejuvenate the old 'gal. And it is a lot cheaper than buying a new one.
So far, the replacement reservation program is not on the U.S. version of the iPhone support app. But if all goes well across the border, we wouldn't be surprised to see this feature rolling out soon to U.S. iPhone owners.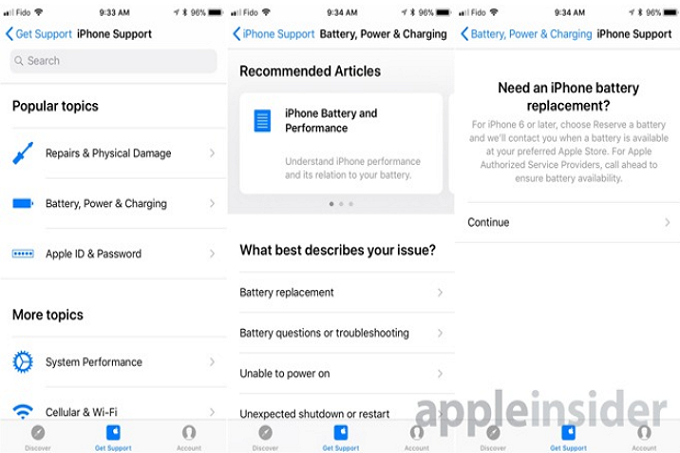 Apple is testing a feature on the iPhone support app that will allow you to reserve the battery you need for your handset
source:
AppleInsider