Apple iPhone dominates U.S. smartphone sales in Q4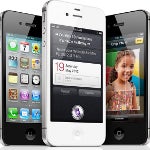 Market Research firm NPD has released its snapshot of the U.S. smartphone industry in the fourth quarter. During that three month period that included the launch of the Apple iPhone 4S, the iOS platform had a 43% share of the U.S. smartphone market. The Android OS had a leading 48% slice of the pie for the quarter. Despite this lead, the
Apple iPhone 4S jumped over Samsung and LG
to be the nation's top-selling smartphone brand in the period. The top 5 smartphones purchased in the holiday quarter by U.S. consumers 18 or older were the Apple iPhone 4S, Apple iPhone 4, Apple iPhone 3GS, Samsung Galaxy S II and the Samsung Galaxy S 4G.
Ross Rubin, executive director, Connected Intelligence for The NPD Group said, "
Attracted by a faster processor, improved camera and the Siri speech-driven agent, most iPhone buyers paid a premium for the
iPhone 4S
, making it the top-selling handset in Q4
." The Apple iPhone 4S, with its faster dual-core A5 processor, upgraded 8MP camera and Siri, outsold the iPhone 4 by 75% and the zero-cost iPhone 3GS by 5 to 1.
57% of the "newbs" selected an Android equipped model
compared to the 37% that selected an Apple iPhone. What makes Android more appealing than iOS to smartphone rookies? NPD's Rubin has the answer. "
Android has been criticized for offering a more complex user experience than its competitors, but the company's wide carrier support and large app selection is appealing to new smartphone customers. Android's support of LTE at Verizon has also made it the exclusive choice for customers who want to take advantage of that carrier's fastest network
."
Smartphone sales made up 68% of the mobile phone market in the fourth quarter, up 18% from last year. The average selling price of a smartphone in Q4 rose $8 sequentially to $143, which still trailed the $149 average from the fourth quarter of 2010.
source:
NPD
via
Phandroid