Apple iPhone could soon utilize emerging MicroLED display tech
46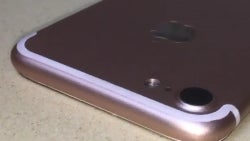 Curiously, though we've yet to actually see what Apple has prepared for
the impending round of iPhone upgrades
, there's been considerable speculation as to the features of next year's handsets. This probably hasn't been helped by the leaks and utterances of experts which, in a joint effort, have
managed to paint a rather bleak picture
of the upcoming
iPhone 7
and
7 Plus
. In a report that once again looks to the future, display industry expert Wang Jyh-chau speculates that the iPhone may switch to an
emerging display tech called MicroLED
within the next few years.
It is strongly suspected that the 2017 iPhone will see Apple
switch from LCD to OLED
, as has been reported
umpteen times
over the past few months alone. But according to Wang — CEO of panel maker Innolux — OLED is not a viable long-term solution for Apple. While the fruit company may utilize OLED to shake things up — 2017 models could even include
curved-edge panels
à la
Samsung's Galaxy Note 7
— it supposedly cannot unseat LCD in for performance-to-cost ratio nor reliability says Wang. Moreover, global supply of smartphone-ready OLED displays is said to be running low, which would be problematic for Apple in the long run.
MicroLED is said to offer many potential benefits over current display tech, though there are also a few cons. Notably, MicroLED is more power-efficient than its peers. It also takes some of the advantages of OLED — pure blacks, quick refresh rates — and aligns them with perks of LCD, like better brightness. MicroLED is pricier and more difficult to produce in the kinds of quantities Apple will require. But the supposed performance rewards explain why Apple has gone to the trouble of acquiring LuxVue, whilst keeping its Taiwan-based R&D plant under wraps.
Essentially, Apple needs to get to a stage where it can churn out a lot of MicroLED panels at a cost that makes economic sense. Should such efforts materialize, it's quite possible that the company's proposed move to OLED next year will be a short-lived love affair.
Recommended Stories