Next year's 'premium' iPhone to feature a Note 7-like curved-edge OLED display
57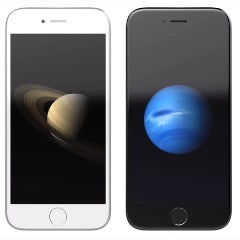 Every so often, a new idea or piece of tech arrives and catches on in a big way. Samsung began the curved-edge display trend with the
Galaxy S6 edge
, which naturally garnered some skepticism at first. Backed by a strong consensus among tech commentators and consumers alike, the curvaceous finish has made its way to the new
Note 7
, and several other companies seem to have been watching. With Xiaomi's forthcoming Mi Note 2
set to be furnished with a similar panel
, Sammy's fiercest rival may soon join the party.
A new report from
Nikkei
infers that a 'premium' OLED iPhone may be in the works for next year featuring a dual-curved display. The report suggests that said iPhone's display could be larger than 5.5 inches in diameter, while the standard editions may continue with the flat LCD configurations as seen with the current
iPhone 6s
and
6s Plus
. According to Nikkei's source:
There will be a 4.7-inch model, another that will be 5.5-inches and a premium handset that will be either 5.5-inches or larger equipped with a screen bent on the two sides.
This is not the first we've heard of an OLED-packing iPhone. Earlier this year, analyst and all-round Apple informant Ming-Chi Kuo suggested that the fruit company
will deploy AMOLED in 2017
. In that report, he also alluded to an iPhone that could favor a mostly glass design and wireless charging.
Kuo seemed to suggest that the entire iPhone line may go OLED. But taking this new report into consideration, perhaps the lesser models will stay behind, at least initially. Since Apple is famed for slow roll-outs where major changes are concerned, it's possible that the regular iPhone models will wait until 2019 or later,
as Kuo suggested last year
.
The report also mentions that Samsung will be a provider of the curved OLED display for the 2017 top-end iPhone.