Like healthcare, the 256GB Apple iPhone XR is free in Canada
19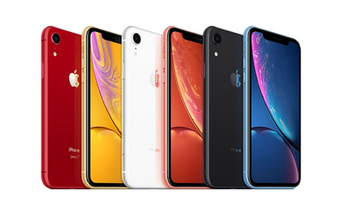 Canadian carriers have not yet ended the practice of subsidizing handsets in return for locking consumers into a two-year contract. You might remember that U.S. phone buyers also used to sign contracts in exchange for subsidized phone pricing, but now most carriers offer 24-month interest free financing instead. North of the border,
Canada's Rogers has a deal that will net you a free 64GB/256GB Apple iPhone XR
in exchange for signing your name on the dotted line.
To score the free 256GB
iPhone XR
, a consumer must sign up for the carrier's Share Everything plan on an Ultra tab. This starts at $125 CAD a month, and comes with unlimited Canada-wide talk and text, and 6GB of data (5GB of that is a bonus). Of course, you're locked in for 2 years. Normally, the carrier sells the phone for $199 CAD with a signed pact, and the plan comes with only 1GB of data. You can buy the plan with more monthly data (from 6GB to as much as 95GB, including the 5GB bonus) and if you want to add the capability to make or take calls to and from the U.S., that will cost an additional $15 CAD per month.
The 64GB iPhone XR is free to those who subscribe to Rogers' Share Everything plan on the Premium+ tab. Starting as low as $115 per month, this plan comes with 5GB of data (4GB of that is a bonus) to as much as 84GB of data each month (again, including the 4GB bonus). The 128GB iPhone XR will cost $69 CAD upfront with the same plan. And like the Ultra tab, calls to and from the U.S. can be added for $15 a month.
The free Apple iPhone XR deal is available for a limited time to both new and existing Rogers customers. There is a $35 CAD charge per line for activation.